For me these love bands reminds me of the vows taken on my wedding day. Of being there for each other in good times and in bad. It's an eternal love, that never ends.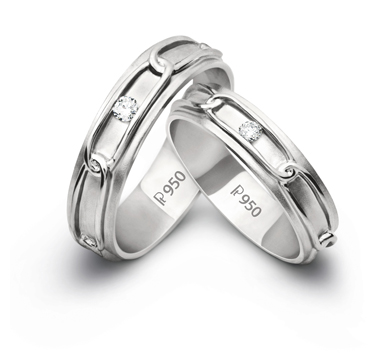 [Image courtesy:
Platinum love
]
Just as platinum is represented by pure, rare, and eternal qualities, married life is built on trust, forgiveness and everlasting love.
True love lasts forever..
(To be Honest, We exchanged our vows with gold bands but now I wish to exchange our vows with this precious metal. Hope in the coming year I can surprise him with a platinum band)
When I think about my love story.. It feels like one of the bollywood movies... Our love story begins like this....
Me and my hubby met around 8 years ago during our MBA correspondence classes, but it never crossed our minds that one day, we would end up getting married. He was one of the class toppers and it was announced in class, thats when I noticed this guy. As I used to work with an MNC we had shifts and that week I had a night shift. One of my colleagues was also doing the same course with me and used to help me with a ride to office, but on that day he had not come to class and I was left stranded. I decided to ask one of my friends to drop me to the nearby bus stand. He was chatting with this topper and when he said that he had some work, this guy pitched in to help me out. I was quite flustered with the unexpected rescue. But then he felt that I was uncomfortable and suggested that I would have to treat him for this. That was the first conversation I had with him and it lasted for less than a couple of minutes. Both of us were quite on the bike and when he dropped me I thanked him. He very graciously accepted my thanks and reminded me about the treat that I owed him.
We would meet each time at our classes and he would be trying to make me laugh with some stupid jokes, that always seemed funny. Small things are so different before marriage, now a days if he cracks the same jokes he gets shouting from me, ha ha ha...
Anyway back to the time before marriage, I always dreamt of a boy who would be wearing goggles, with his shirt folded and carrying a jacket along with his helmet in his arms, like one of those hero-types, and here, there was this shy guy with spectacles, shivering in his jacket and trying to make a conversation with me. But he had other qualities like he would sing and strum the guitar. He was a good entertainer and we used to meet up and started spending quite some time with each other on the pretext of studying.
I never realised when the time flew by and we became friends and he turned to be my best friend in all my good and bad times. I knew he would always be there for me. I didn't have to say a word at times, he could just sense it and would be willing to help me in any situation.
One day, he told me that his folks were searching a girl for him. It sounded quite wierd and made me feel uneasy, I guess I was irritated that I might lose my best friend. When he went to meet one prospective girl, I got very angry with him. Didn't speak to him for a couple of days and tried avoiding him. But couldn't resist speaking to him so we patched up again. But a couple of days later he told me that he would be going back to Mumbai due to some family matters.
Our group went to drop him to the airport. I dont really know what got into me but I cried and hugged him, having a conservative upbringing didnt stop me from hugging him publicly, tears just flowed down my cheeks. It just felt like an important part of my life was going away forever.
That day, at the airport, was the turning point in our friendship, as both of us felt the same way about each other, that he later confessed to. We would talk almost everyday and one day he kinda proposed to me. He said he was tired of meeting up with prospective marriage girls and would be better off if I would marry him as we knew each other's strong and weak points. Till date he considers this proposal as his romantic proposal to marriage. Initially I thought he was joking but then we actually started thinking about it. There were some major hurdles in our way firstly culture and most importantly religion, he is a catholic and I am a Hindu. Getting our parents to agree to the same was a herculean task. It took almost a year to convince them. We realized that a marriage is not just the union of two people but its a union of two families.
Every day was a difficult day convincing them, almost a year passed and success followed at last. After they were convinced, we thought as we were best friends why not start our new journey of life on the friendship day so we decided to get married on Friendship's day August 2nd, 2009
We took our vows and loved every bit of it. I was dressed in my white gown and my prince charming was waiting for me at the chruch steps... it was the most romantic moment in my life..
My dream had actually come true... me marrying the one person who I could trust with my life and who also happened to be my best friend. When we took our vows, there was another surprise for me and he actually sang for me. A few lyrics of the song
Wherever you go, I shall go.
Wherever you live, so shall I live.
Your people will be my people,
And your God will be my God too.
Wherever you die, I shall die.
And there shall I be buried beside you.
We will be together forever;
And our love will be the gift of our lives.
So that was the story of the beginning of my journey as a soulmate. Now we have a little angel with us and she is "tooo old" that is 2 yrs old according to her . Such a beautiful journey that i will cherish for the rest of my life.
This entry is for the contest Platinum love. To know more visit -
Platinum Day of Love